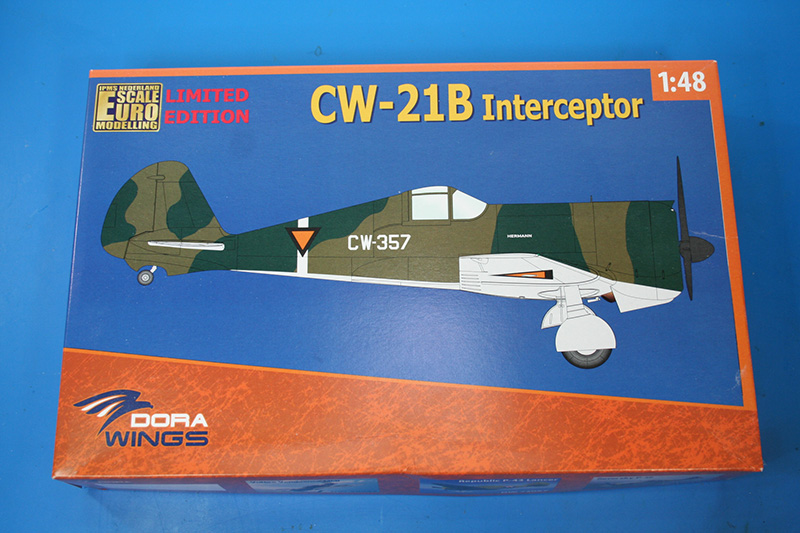 Nederlandse lezers kunnen hier de Nederlandstalige eerste indruk lezen....
Curtiss CW-21b Interceptor ML-KNIL "ESM Limited Edition"
brand: Dora Wings

scale: 1/48
kitnr.: DW4800
number of parts: 103
price: about 35,- Euro
"Review / first impression"
About the original aircraft
The Curtiss-Wright Model 21 (also known as the Curtiss-Wright Model 21 Demonstrator, the Curtiss-Wright CW-21 Interceptor, the Curtiss-Wright CW-21 Demon) was an American fighter interceptor developed by the St. Louis Airplane Division of Curtiss-Wright Corporation during the 1930s. In April 1940, the Aviation Department of the Dutch Army, desperate for modern fighter aircraft, placed an order for 24 CW-21Bs with Curtiss-Wright. After the Battle of the Netherlands, which resulted in the surrender of the Dutch army to the invading Germans on 15 May 1940, the order for the CW-21Bs (together with a number of Curtiss Model 75 fighters and Curtiss-Wright CW-22 trainers) was transferred to the Government of the Dutch East Indies (now Indonesia), for the Military Aviation of the Royal Netherlands Indies Army; ML-KNIL.
The 24 CW-21Bs were assembled in February 1941 at the airfield Andir, Bandung, Java, for Aircraft Group IV, Division 2 ("Air Group IV, No. 2 Squadron"; 2-VLG IV. The lightweight construction of the Curtiss-Wrights gave rise to structural problems, and several aircraft were grounded by cracks in the undercarriage and were still waiting for repair when the war with Japan began on December 8, 1941.
With its light construction, radial engine, low wing load, limited pilot protection, and lack of self-sealing fuel tanks, the CW-21B was the Allied fighter most closely resembling the opponent's Japanese fighters. It had a climbing speed superior to the Nakajima Ki-43-I ("Oscar") and Mitsubishi A6M2 Zero. The CW-21B had the same firepower as the "Oscar", but worse than the cannon-armed Zero.
The Group 2-VLG IV claimed four air victories during the Dutch East Indies campaign, but the ML-KNIL was overwhelmed by the huge number of Japanese aircraft; almost all of his hunters were soon lost in combat or destroyed on the ground. *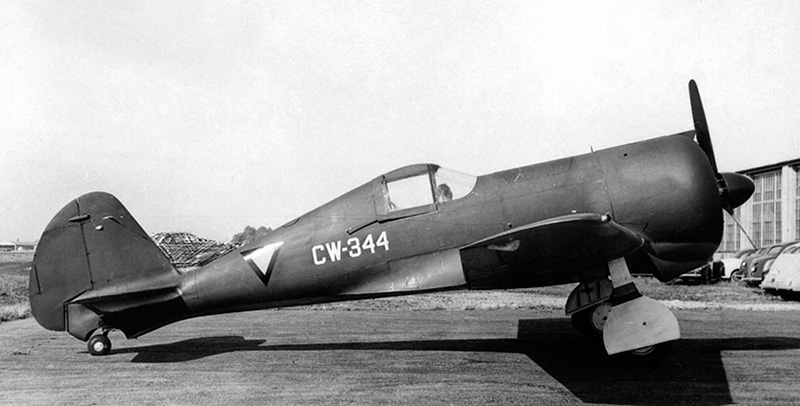 photo: collection Bachofner
The kit
As far as I know, the only Curtiss-Wright CW-21B kits in scale 1/48 were a high-quality vacuform kit from Sierra Scale Models released in 1990 and now long out of production, and a resin model from WSW Modelbau in 1999.
Dora Wings has developed a knack for choosing interesting and esoteric subjects, and they have now expanded their range with this 1/48 scale of injection molded plastic Curtiss-Wright CW-21B Interceptor.
This limited edition pre-production kit has been brought forward to become the showstopper at the 2021 Euro Scale Modelling show organized by IPMS Nederland for Dora Wings. Unfortunately, this did not take place and is now just for sale in the (web) stores. The full commercial release will be available in the spring in the Northern Hemisphere with more marking options, including other Dutch markings and an example captured by Japanese troops have been captured.
The plastic is smooth and quite shiny. Surface details consist mainly of sharply recessed, fine and consistent panel lines. Sprue attachment points are narrow, but they extend on the visible outer surfaces of the wings and fuselage, so be careful when removing the parts and cleaning. The simple cockpit is equipped with a photo-etched instrument panel, small switches, handles and safety belts, rudder pedals and more. Dial decals composing the cockpit included. Unfortunately, Dora Wings is wrong here with the interior colors. These are not green but silver. The engine is detailed with pushrods, finely detailed cylinder banks, crankcase, exhaust manifold and supports. Again, a brief comment. In the professional literature I have read that the assembly of the engine is not quite right. Adjustments have to be made. So do some good research.
The wings are made up of two halves, one top and one bottom. All flaps/rudder and ailerons are separate parts and can be placed neutral or shifted. Flaps are molded closed.
Clear parts are thin, without distortion and clear, the cockpit is cast as one part. It might have been nice to have two sections so that the cockpit can be displayed in an open position. Can of course always be realized.
As for the upper part of the cockpit sliding part, it is said that photos show that it has a kind of sun roof. I did some research and found two pictures (one of bad color) where you can assume that this is indeed the case. On the mentioned color photo you can clearly see a kind of orange "glow" on top and because the second photo (in black and white) is taken diagonally from below, you can see through the cockpit that the crooked side has a different color. An interesting fact of which I have not encountered any contradictions.
Dora Wings has supplied good self-adhesive cockpit and landing light masks, something I appreciate from a manufacturer. Instructions are provided in a 12-page, glossy booklet. There are 31 illustrated construction steps. Markings are provided for four options. All four options are finished in bare metal bottom surfaces with a camouflage scheme of old leaf "Oud blad" and new leaf "Nieuw blad" on the top surfaces. (Dora Wings indicates olive drab 41 and medium green 42). At the moment I will not go into discussions about these two colors. Through Naval Models I bought the old leaf /new leaf enamel paint set from White Ensign Models paints. It is a pity that for this euro 7.95 purchase more than euro 8.00 (insured) postage was charged by Naval Models and they did not want to change that. I could have settled with a possible loss, too bad.
Conclusion
Dora Wings' CW-21B Interceptor is a high-quality kit of a subject that has never been offered before in injection molded plastic in scale 1/48. This may technically be a limited model in terms of production techniques, but it seems very mainstream to me, with small locating pins and holes, high-quality plastic and fine sprue attachment points. An asset to a Dutch collection of a beautiful model to build. I have already seen a number of beautiful build models on social media. This Dora Wings' 1/48 scale CW-21B will be well received by lovers of esoteric fighter planes around the world I think.
Note: Dutch Decal will release a decal sheet 48081 which contains a number of additional registrations and other markings for the 21 and 22.
Thanks to Dora Wings for making the model available for review.
Reviewer: Fred Bachofner
TIP: also check out the CW-21 information here at our IPMS site NedMil....
this article was published on IPMS.NL February 23, 2022