Designed by McDonnell Douglas (now Boeing), the F-15 Eagle is a twin-engined fighter. With lessons learned from the Vietnam War, it was clear that besides good manoeuvrability also a canon was still needed in a fighter. The Eagle first flew in July 1972, and entered USAF service in 1976. It has a very good radar and was capable of firing Sidewinders and longer range Sparrow AA missiles. It is an excellent aircraft.
The Eagle was used by the USAF but also Israel, Japanese JASDF and Saudi Arabia. It was a good aircraft and very large. Starting with the single seat F-15A and trainer F-15B, quickly the more advanced F-15C and F-15D appeared. A ground attack version was the F-15E.
---
F-15 Eagle 32 TFS Soesterberg
Several Eagles are seen here as operated by the USAFE 32 TFS based at Soesterberg airbase, The Netherlands in the nineteen seventies and eigthies. They are mostly the F-15C and with the standard ghost grey USAF camouflage. The 32 TFS aircraft were directed by Dutch controllers responsible for the air defense in the region.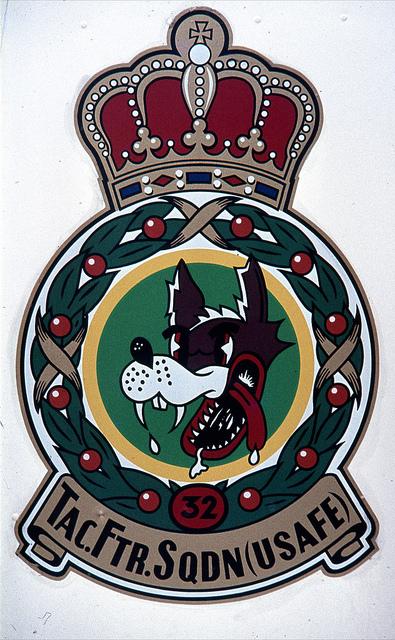 Photographed, seventies by Fred Bachofner (C) Copyright!
---
F-15C Eagle 32 TFS Soesterberg

This F-15C is of the later version with slight differences as compared to the F-15A. This aircraft hangs from the ceiling for display at the new Dutch National Military Museum (NMM) at the former Soesterberg airfield, The Netherlands. It was probably a former "damage" repair training aircraft, so shows some "thick" metal panels. The exhaust pipes covers called "Turkey feathers" are not installed here as on operational planes that often flew without them. The codes and scheme are for a USAFE 32 TFS aircraft of the Wolfhounds with tail code "CR". This squadron was based at the Netherlands Air Force Base at Soesterberg for decades and flew with the F-86, F-100, F-102, F-4E and F-15A and F-15C.
Photographed July 2015 by Meindert de Vreeze (C) Copyright!
---
F-15A Eagle
This F-15A is an early version s/n 74-0124 as later flown by the 4484th Test Squadron of the USAF at Eglin. (Note that some items seen at the undercarriage are for securing the aircraft to the ground surface for display. The aircraft displayed is on loan from the National USAF Museum).
Photographed January 2015 by Cees Hendriks (C) Copyright!
---
F-15E Strike Eagle
This is a F-15E Strike Eagle bur.no 90-260 of the 57th wing, USAF. It carried a large load of weapons such as the JDAM and pods. Seen at Nellis AFB, Nevada, USA.
Photographed November 2017 by Cees Hendriks (C) Copyright!
---
F-15 Cockpit
Here a cockpit section for training is seen, at the Eglin museum.
Photographed January 2015 by Cees Hendriks (C) Copyright!
---
OFFICIAL USAF COLOUR INFORMATION F-15
from USAF handbook Technical order TO 1-1-4. Collection M. de Vreeze (used with permission)
Standard System colour numbers refer to the Federal Standard system with 5 digit numbered colours. Deviations on real aircraft may occur. The first "blue" scheme is shown as well as the later standard grey scheme.
---
Many, many plastic scale models exist of the F-15 Eagle in various scales. Just to list a few:
In 1/144 from Revell, Minicraft and Arii. In 1/72 scale the good kits of Hasegawa and Academy and Fujimi are fine.
In 1/48 there are kits of Hasegawa, Academy, Fujimi, Great Wall and also of Eduard with 32 TFS decals.
In 1/32 scale the Tamiya kit is very good with also good and cheaper Revell kit. Kits have appeared in various boxes and re-issues.
This walk around page was first created Februari 2014 by M. de Vreeze