The Mikoyan-Gurevich MiG-15 was in fact the first usable Soviet jet fighter after the Second World War and had a swept wing. It first flew in 1948 and the engine was a direct copy of the British designed Rolls-Royce Nene engine, samples of which had been bought from England in 1946. The MiG-15 came as a great surprise to the West during the Korean War in 1950, being very capable and more than a match for virtually all the Western fighters except for the F-86 Sabre. Over 16,000 MiG-15 aircraft were built under license in Poland, Czechoslovakia, and China as well as in Russia and 38 different countries used the aircraft. The NATO codename was "Fagot". The MiG-15 had some variations in canon layout at the MiG-15bis had a more powerfull engine with slightly larger tailpipe and a different airbrake.
The two seat trainer UTI version was the basic jet entry trainer for the Warsaw Pact and many air forces for many years, called the MiG-15 UTI.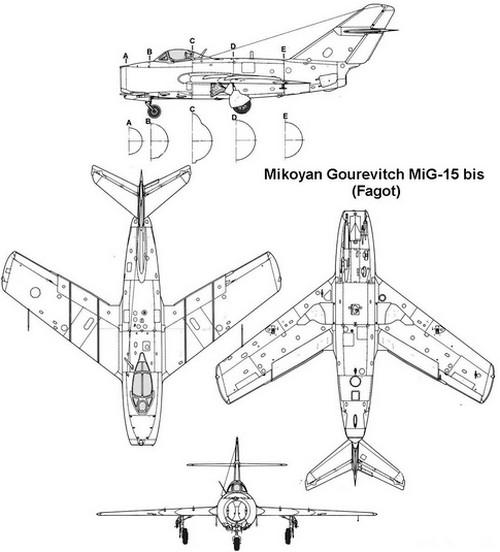 ---
MiG-15
Photographed 2005 by Meindert de Vreeze (C) Copyright IPMS Nederland
This is a MiG-15 seen at the German museum in Sinsheim

---
MiG-15's

A number aircraft were seen at Nellis during an Air show.
Photographed July 2007 by Cees Hendriks (C) Copyright IPMS Nederland

---
MiG-15 bis

The aircraft was seen at Pima air museum (Tucson, Arizona, USA). It is a Mikoyan-Gurevich MiG-15bis 'Fagot' with serial code 822. The bis has a slightly larger exhaust and has an extra doppler (?) fitted in the rear lower fuselage.
Photographed 2012 by Cees Hendriks (C) Copyright IPMS Nederland

---
MiG-15 UTI trainer
The aircraft is a two seater trainer of the MiG-15 called the UTI. It was widely used all over the world by Soviet allied air forces. After the collapse of the Iron Curtain, the type was long out of service and many survivors found their way to the West. This private MiG-15 UTI was seen at Valiant Air Command Warbird Aviation Museum at Titusville (Fl.), USA. It has a civil registration N2400X and is probably a PZL-Mielec SBLim-2 (license built MiG-15UTI).
Photographed 2015 by Cees Hendriks (C) Copyright IPMS Nederland

---
Mig-15 bis / Shenyang J-2
This Soviet manufactured aircraft serialled 2292 was exported in 1954 to China and designated J-2. Many years later in 1989 it was bought and transported to the USA and privately flown. Many cockpit details are shown (though maybe not 100% original). This MiG was donated and was now seen in display at the Oakland Avaition Museum.
Photographed 2017 by Cees Hendriks (C) Copyright IPMS Nederland

---
MiG-15bis
This MiG15bis is probably a former Chinese Air Force aircraft. It is painted in a North Korea Air Force scheme with nose code RED 1051. This aircraft actually is airworthy and has civil registration NX87CN. It is normally based at the Planes of Fame Museum, Chino, California, USA were it was seen.
Photographed 2016 by Cees Hendriks (C) Copyright IPMS Nederland

---
Many plastic scale models exist of the MiG-15. The first reasonable models were the old MiG-15 and MiG-15 UTI kits from KP. The recent Airfix kit is unfortunately still inaccurate like also their very old kit. Now far better 1/72 models of the MiG-15 are from Hobbyboss (which is real value for money) and a very good one from Eduard in both MiG-15 and -bis and UTI variants.
In 1/32 scale Hobbycraft/ Trumpeter has a good kit and HPH an expensive but detailed resin kit. In 1/48 scale the Trumpeter kit is also fine.
This walk around page was created January 2012 by M. de Vreeze; note Copyright!