The North American FJ- Fury series of aircraft started with the FJ-1, a first jet for the US NAVY of the forties / nineteen fifties. The FJ-1 had a straight unswept wing with a single Allison J35 engine and made the first US Navy jet carrier landing.Not many were manufactured.
The FJ-2 version got a swept wing and the later FJ-3 were much better aircraft with many F-86 Sabre components.
The FJ-4 version was essentially a new airplane with a complete new thin swept wing and Wright J65-W engine. The first FJ-4 flew in October 1954, and the FJ-4B version was an attack version of the aircraft with underwing pylons that could carry conventional or tactical nuclear weapons and Bullpup air-to-ground missiles.
Over 1,100 FJ- series aircraft were produced, many operating also from US aircraft carriers until late nineteen sixties.
FJ-1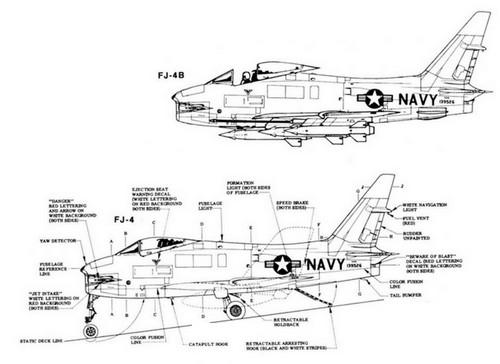 FJ-4
---
North American FJ-4 Fury

This FJ-4 aircraft has Bureau no. 139486. It flew with the US Navy until end 1964. It is now located at the National Naval Aviation Museum, Naval Air Station Pensacola, Florida USA. It is painted in the markings of one of the squadrons in which it flew, the Marine Fighter Squadron (VMF) 232 "Red Devils." tail code WT.
Photographed, November 2014 by Cees Hendriks (C) Copyright!
---
FJ-1 Fury

This is a first generation FJ-1 Fury with Bu.no 120349. It was delivered November 1947 and flew with VF-5A and VF-51 and also other units. This restored aircraft was seen at the Yanks museum at Chino, Ca.
Photographed 2016 by Cees Hendriks (c) Copyright IPMS Nederland
---
Modelkits: in 1/72 scale there was a very rudimentary Amodel FJ-3 and FJ-4 vac, later a very welcome FJ-4 kit appeared of Emhar. Rareplanes had a FJ-1 vacuform, followed by Siga and later Valom released a FJ-1 short run kit. In 1/48 scale Matchbox had a good kit and also "Grand Phoenix". Now a better 1/48 kit is of Hobbyboss. In 1/32 scale only a very basic vacform of ID existed that needed to be combined with F-86 kit parts.
The first version of this page was created July 2015 by M. de Vreeze