The Breguet type BR.1150 was designed as a long range maritime patrol aircraft that could also attack submariens. Its development was done in a NATO supported initiative. Known as the Atlantic, it first flew in 1961. It had a double bubble fuselage cross section and a torpedo bay and it could carry various armament including depth charges. Crew was usually 12 and it was powered by 2 Roll Royce Tyne engines giving it a maximum speed of 650 km/hr and patrol speed of 320 km/hr. It was widely used by the French Aeronavale but also used by the Royal Netherlands Navy, Italy, Germany and Pakistan. It suffered from corrosion during its operational use. In 1978 a new generation Atlantic NG was developed with updated systems but only a few French orders were obtained.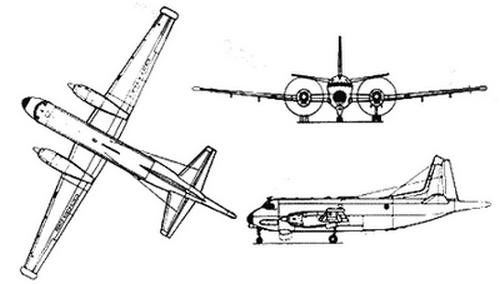 ---
Breguet Atlantic Aeronavale
This is a former Dutch Royal Navy Naval Flying Service, the MLD (Marine Luchtvaart Dienst), Atlantic coded "254" delivered June 1971. End 1984 this aircraft went out of MLD service and was returned in 1986 to the "Escadrille de Reception et de Convoyage de la Marine Francaise".
It was repainted as the Aeronavale French Atlantic no "61". Its markings have now faded away. It was seen at the Le Bourget museum "Musee Air et Espace" at Paris.
Photographed 2016 by Meindert de Vreeze (c) Copyright IPMS Nederland
---
Breguet Atlantic MLD
This is a selection showing various Atlantic aircraft as used by the Dutch "Marine Luchtvaart Dienst" from the 1970s and 1980s. Many photos are scanned slides.
Photographed by Fred Bachofner (c) Copyright IPMS Nederland
---
A few scale models only exist. In 1/72 scale there was a rudimentary MACH2 kit but later Revell released an excellent kit. Heller of France had kits in 1/100 scale and 1/208.
Enthusiasts and historians can see more on our Dutch pages here on NedMil....