The Dutch Van Berkel company was asked to manufacture a seaplane for the Royal Netherlands Naval Flying Service (Marineluchtvaartdienst MLD) as they had a need for such a type. The design preferred was an aircraft based on the German Hansa Brandenburg W.12 as one W.12 was interned in April 1918 and it looked good. So the Van Berkel team used the W.12/V2 as starting point which had the longer aft fuselage. Construction was typical for that period with wood and some metal parts and a Mercedes D.III engine.

First flight was September 1929 and first some 35 aircraft were manufactured, including some 20 aircraft for use in the Dutch East Indies. They were also the first type deployed from Dutch navy ships.
Soon, the wooden structure proved unreliable in tropical conditions and it was decided to considerably modify the existing aircraft and fit these with a metal frame structure and metal floats. This was done by the MLD maintenance section at De Kooy, The Netherlands (as Van Berkel meanwhile had quit in the aircraft business). Also, the BMW IIIa engine was now fitted and some other modifications were made such as 2 extra wing struts and larger tailplane.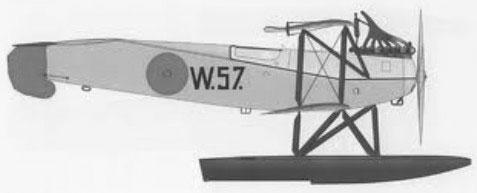 ---
Van Berkel WA

This is a replica of the Van Berkel WA made by the Dutch Neptune Association. It is coded "W57" is shows the typical Dutch orange markings. (note that the registration varies, with or without the "dots" as on real WA aircraft).
The replica was completed in 2017 as the MLD had its 100th year anniversary and is in the collection of the Aviodrome at Lelystad airport.
Photographed September 2017 by Meindert de Vreeze (C) Copyright IPMS Nederland
---
No plastic scale model kit exists so conversion of any Hansa Brandenburg W.12 model is needed (such as in 1/72 from Czech Master resin).
Enthusiasts and historians find more info on our NedMil pages....
This walk around page was first published on September 2017 by M. de Vreeze