The Douglas DC-3 was a revolutionary design that emerged in the nineteen thirties as it had an all metal construction. It had two engines driving 2 propellers with a large cabin for apssenger transport. The designation "DC" means for "Douglas Commercial" and TWA airline was the big driver behind its design. The DC-3 used experience from the previous DC-2 from 1934. The Douglas C-47 Skytrain or Dakota (RAF designation) is the military version and was used in the Second World War in very large numbers. The C-47 got a large cargo door and a strengthened floor. Early-production DC-3 civilian aircraft used Wright R-1820 Cyclone 9s engines, but later aircraft (and most military C-47 versions) used the Pratt & Whitney R-1830 Twin Wasps After the War many were still used for decades. Also the Royal Netherlands AF used the C-47.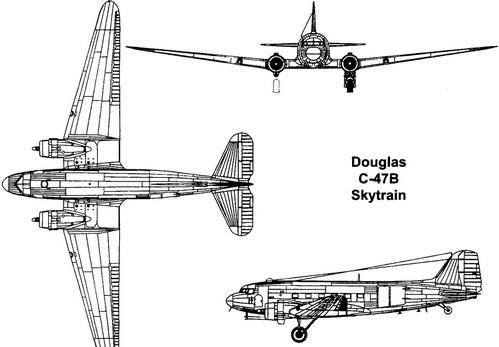 ---
C-47B Skytrain
The C-47B was a military version of the DC-3 and this aircraft "476423" with name "What's up doc?" was seen at Palm Springs, USA
Photographed 2013 by Cees Hendriks (c) Copyright IPMS Nederland
---
OFFICIAL USAF COLOUR INFORMATION C-47 (military use USAF)

from USAF handbook Technical order TO 1-1-4.
Collection M. de Vreeze (used with permission)
Standard System colour numbers refer to the Federal Standard system with 5 digit numbered colours. Deviations on real aircraft may occur.
---
DC-3
This DC-3 Dakota with registration N103NA was seen at Flabob airport, USA
Photographed 2013 by Cees Hendriks, (c) Copyright IPMS Nederland
---
Various DC-3 's
These older photo's show DC-3's seen at the Brussels museum and Dusseldorf (D).
Photographed / slides by Fred Bachofner, (c) Copyright IPMS Nederland
---
A large number of plastic scale models has been issued by many manufacturers. The very old 1/72 Airfix kit has now been superceeded by a very good brand new Airfix kit. Other 1/72 models were from ESCI and Italeri and the Soviet licensed Li-2 is made in 1/72 by Amodel. In 1/48 Revell/Monogram have kits and also Trumpeter.
In 1/144 Eastern Express and Welsh had kits. In 1/32 HpH has a very big resin / fiberglass kit (though expensive).
The Netherlands armed forces also used the C-47. Enthusiasts can look at our IPMS Nedmil pages here...
This walk around page was first created Summer 2014 by M. de Vreeze