During the Second World War Lockheed started development of a large civil transport aircraft designated L-049 with the Wright R-3350 engines. There were engine troubles and a few military aircraft flew designated as C-69. The engine was improved and fuel capacity increased, leading to the L-749 Constellation after the war. Sales were initially poor, but the US armed forces ordered a military transport version of the L-749 with a stronger floor, designated C-121 for troop transport. Over 300 C-121 aircraft were built for both the United States Air Force and United States Navy. They were used for other duties including VC-121 VIP transport. A special version had various radars and domes fitted, designated the EC-121 or RC-121. Meanwhile, civil airline sales picked up as well and the Connie was the first aircraft to fly larger distances.
The Super Constellation L-1049 was a considerable different aircraft and had a longer fuselage. The US armed forces got these as well. The USAF had L-1049F Super Constellations in 1951, designated the C-121C and operations started mid fifties. Naval aircraft were also designated the R7O and R7V and some transferred to the USAF as C-121G and C-121J. Various versions of the C-121 were developed throughout the years.
---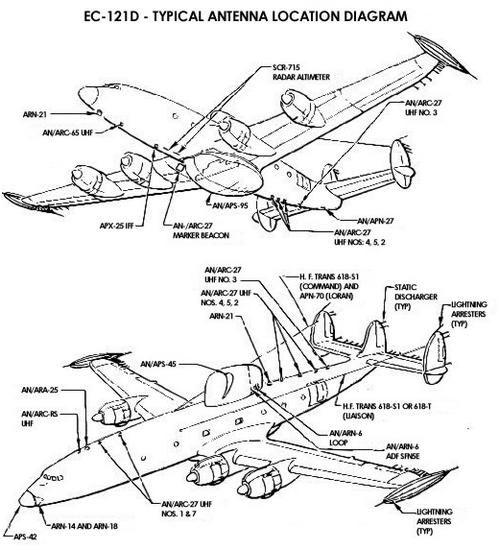 ---
Lockheed RC-121 Warning Star
This aircraft was delivered to the USAF in 1955 as RC-121D with no "53-548". Later it was converted to EC-121 Warning Star standard. This aircraft was used by the USAF and is now seen preserved at the "Yanks museum" at Chino, Calif.
Photographed 2013 by Cees Hendriks, (c) copyright
---
VC-121 "Bataan"

A number of L-749 Constellations were converted for the VIP role. They got a strengthened floor and a large cargo door and could be fitted as a 44-seat passenger cabin. This aircraft with no.613 had various duties but also was assigned to NASA for use in conjunction with the Apollo space program. After decommissioning, it was kept for museums and was restored as 48-613 "Bataan" with interior as used during service with General MacArthur in the Second World War. It is on display at the Planes of Fame Air Museum in Chino, California.
Photographed 2015 by Cees Hendriks, (c) copyright
---
L-049 Constellation airliner

This L-049 passenger aircraft coded N90831 is painted in a TWA livery and named "Star of Switzerland". It was seen at the Pima museum near Tucson (Az.).
Photographed November 2016 by Cees Hendriks, (c) copyright
---
OFFICIAL USAF COLOUR INFORMATION C-121
from USAF handbook Technical order TO 1-1-4. Collection M. de Vreeze (used with permission)
Standard System colour numbers refer to the Federal Standard system with 5 digit numbered colours. Deviations on real aircraft may occur.
---
In 1/72 scale, the only model, besides an old Rareplanes vacuform, is of Heller with both the EC-121 and L-1049 being available as kits. Minicraft, F-Resin, Anigrand and Welsh have 1/144 kits.

This walk around page was first created November 2015 by M. de Vreeze