The Stinson Reliant was designed as a single-engine four- to five-seat high-wing monoplane. It was manufactured by the Stinson Aircraft Division in Michigan, USA in the 1930s. Several models were manufactured with different engines. Models up to SR-6 had a straight wing and later models a gull wing. The military designation was AT-19, UC-81.
Over 1,300 Reliants were manufactured and it was quite popular.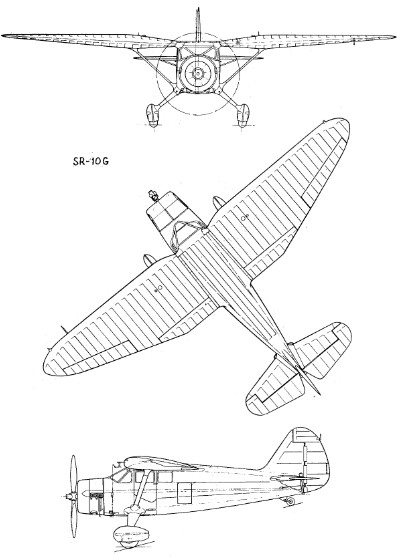 (note: drawing of a SR-10G with gull wing)
---
Reliant
This Reliant SR-7B with registration TF-AZX was seen in Iceland at the aviation museum at Akureyri. It has the Lycoming R-680 radial piston engine and has a 5 seat cabin layout.
Photographed 2022, Henk de Jong (C) Copyright IPMS Nederland
---
The first scale models released were very old and made of wood in odd scales.
Plastic scale models are in 1/48 by ESCI/ERTL and in 1/72 with Dekno injection moulded kits and 1/72 vacuforms of Execuform and Magna Models.
This first version of this page was created 15-09-2022 by M. de Vreeze