The US Navy needed a carrier-based scout-bomber in the nineteen thirties and Chance Vought came up with a design. Their model V156 with 2 crew cockpit for a pilot and observer/gunner was an all-metal, single-engine, low-wing monoplane with retractable landing gear and tail hook for carrier operations. The fact that it was a monoplane was quite new at the time. The prototype flew January 1936 and the first production SB2U-1 type had an 825 hp Pratt & Whitney R-1535-96 engine. The SB2U-2 had equipment changes and deliveries started end 1938. The SB2U-3 was adapted as a dive bomber with longer range and deliveries to operational US Navy squadrons began in March 1941. Called the Vindicator, hundreds were delivered.
The SB2U served from US NAVY "flat tops", the carriers like USS LEXINGTON (CV-2), USS SARATOGA (CV-3), USS RANGER (CV-4), ESSEX and WASP. The type was involved in actual combat in the Pacific during the important Battle of Midway with VMSB-231. Midway was the last U.S. action for the SB2U Vindicator and the remaining aircraft used for training on the U.S main land.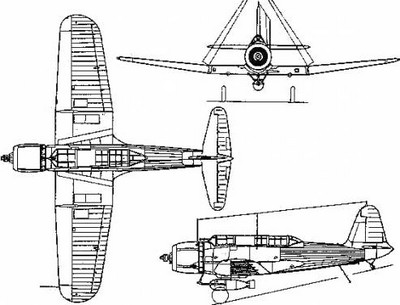 ---
SB2U-2
The only known Vindicator in existence is SB2U-2, Bureau Number (BuNo) 1383. This aircraft is located at the National Museum of Naval Aviation at NAS Pensacola, Florida. This aircraft ditched during World War II in Lake Michigan while conducting training operations from the training aircraft carrier USS Wolverine (IX-64). The aircraft was raised from the lake in the 1990's and, as of April 1999, has been restored and is on display.
Photographed November 2014 by Cees Hendriks (c) Copyright IPMS Nederland
---
A few scale models exist of the SB2U. It started with vacuforms but injection molded kits appeared. In 1/72 scale preferred are those from Special Hobby/ MPM and Azur. In 1/48 from Accurate Miniatures.